From there, you can climb just a few dunes, or go a little farther to the shores of Silver Lake.
Other ways to check out the dunes: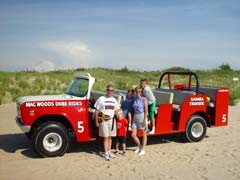 Explore the dunes in your own 4-wheel drive vehicle or dune buggy

Take the scenic Mac Woods Dune Ride

Rent a Jeep and enjoy a guided tour of the dunes
No matter which option you choose, you're sure to enjoy some of the most beautiful scenery Michigan has to offer.
On our first trek into the dunes, we entered on foot from Silver Lake State Park.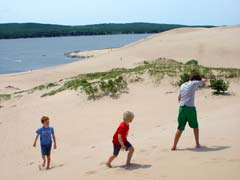 Although it's a beautiful walk, it's also very tiring walking up the larger dunes- especially if it's hot! We climbed over the largest of all the dunes, plus a couple more on the way to the beach at Silver Lake. Brendan (who's 10) kept us going with the rallying cry "No whining!" We played at the beach awhile before we headed back over the dunes. Colin, who's 4 couldn't make it up the last hill. Dad had to carry him-- along with the camera bag, backpack, and extra water. WHEW! The natural beauty of the dunes makes walking them worth every step. If you go, bring lots of water, and try to go in the morning or evening to avoid the hot mid-day sun.
The Mac Woods Dune Rides are also a great way to see the dunes.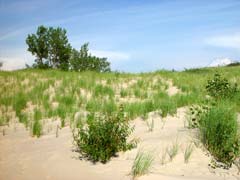 The drivers are very knowledgeable and provide humorous little anecdotes to entertain you along the way. You'll also get to visit areas of the dunes that you can't see any other way.
After you're done at the dunes, have fun in town at the go-kart track, or play a round of putt-putt golf. There's also a nice scenic drive you can take to the restored Little Point Sable Lighthouse on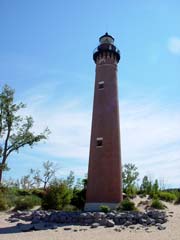 the Shore of Lake Michigan. For a small donation you can take a tour of the lighthouse. Climb the circular staircase to the top revealing a great view of the Lake Michigan shoreline! One word of caution- if you're afraid of heights you may want to stay on the ground here. The staircase is very steep, and when you go outside at the top, it's a little scary!
If you're in Western Michigan, be sure to check out the Silver Lake Sand Dunes! Check out more pics and puzzles on our Silver Lake puzzle page!