The park features: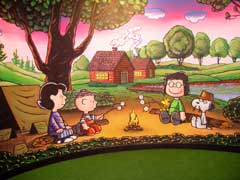 A variety of rides and slides

A great water park with three wave pools

A "kid-friendly" layout (rides are close together to make it easier for little legs)
For us, the highlights of the park were its three wooden roller coasters.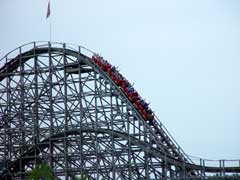 The smallest one,
Zak's Zoomer was great for our 4-year old, Colin. He was excited by the hills, and rode the ride with his arms up the whole time. (It was a little too exciting for mom, who wouldn't go on again.) The medium coaster called the Wolverine Wildcat was perfect for Adam, our 7-year old who was looking for a thrill, but was too short to get on the the biggest coaster. It was also exciting enough to make dad hold on tight!


Shivering Timbers, the biggest coaster, is a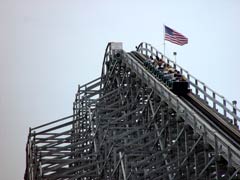 thrill for everyone! Brendan, who's 10 couldn't get enough of it! The coaster starts with a series of large hills and is one of the fastest, longest wooden coasters in the world! The park also has a small corkscrew which is pretty fun even though it's not as big as some of the others.
After you've had enough of the rollercoasters, check out the great waterpark. This is a great deal for families because it's included with the price of admission!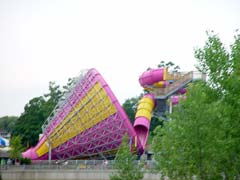 There are several slides for both big kids and little kids, and also three great wave pools! The whole family can go down the "Funnel of Fear", a large slide that a family of four can go down together! The slide ends in a giant funnel at the bottom! You glide around the funnel just before you splash into the pool at the bottom!
Michigan's Adventure is a great amusement park that truly has something for everyone!