To see the whole island, you'll want to rent a bike (or bring your own). There are a variety of things to see and do on the island: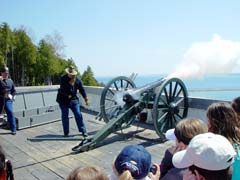 Visit Fort Mackinaw, a restored 18th century fort built by the British during the American Revolution

Check out all the gift shops (and fudge shops!) on Main Street

Bike around the island to see the sites including: Arch Rock, Skull Cave, and The Grand Hotel
There is also a beautiful butterfly house to check out, plus a historic church and other historic buildings.
Mackinac Island is most famous for its FUDGE!!! You'll find a variety of fudge shops on the island serving just about every flavor you can imagine! Our favorite was the Oreo Cookie fudge. YUM!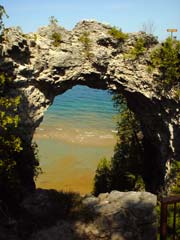 While on your biking trip, be sure to climb the steps to Arch Rock. This is a natural arch perched on a cliff high above Lake Huron. The view from the top is just gorgeous! The easiest way to bike the island is to take the road that goes around the island along the shoreline. It's about 8 miles around, and can be completed (with several stops for rest and photos) in about two hours. If you're feeling real energetic you can try the main road that goes through the center of the island. There are a bunch of big hills, and you'll find yourself getting off to walk your bike several times.
Don't miss Mackinac Island's Grand Hotel. Although you get a good view of it from the ferry as you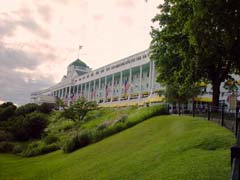 approach, nothing compares with seeing it up close! Unless you're a guest, you'll need to pay to go inside, but you can get a sense of its beauty from the road that wraps around the hotel. We were able to find a path through the woods that brought us to the edge of the Grand Hotel's "front yard" which gave an even better view.
There are plenty of places to stay on the island, but to save a little money you'll want to stay in Mackinaw City instead. The town is small and clean, and offers a variety of little shops. There's a cool mall called Mackinaw Crossings that you shouldn't miss. They also have a awesome water park called Thunder Falls! The park has 12 waterslides, and boasts the largest wave pool in Michigan!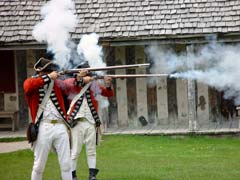 Be sure to check out Colonial Michilimackinac too. Older and smaller than the fort on Mackinac Island, it's a neat place to see the musket demonstrations, cannon firing, and several restored buildings that you can walk through. It's located at the base of the Mackinac Bridge, so you can't miss it.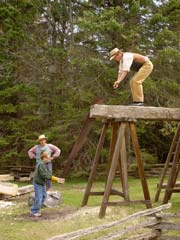 One final place to stop is historic Mill Creek. Located a couple miles outside of town, this 1790's era sawmill offers demonstrations and a guided tour. There are also many scenic hiking trails to check out. Check out more pics and puzzles on our Mackinac Island puzzle page!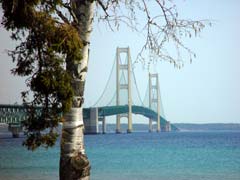 Saw demonstration at
Historic Mill Creek