Family Vacation Ideas




Boyd's Bear Store
Gettysburg, Pennsylvania

If you're traveling in western Pennsylvania, be sure to stop at the Boyd's Bear store! They have every type of Boyd's Bear you can imagine, and the kids can even make their own!
The Boyd's Bear Store in Gettysburg, Pennsylvania is a great place for kids of all ages, and for anyone who loves bears! The store is a large, 3-story barn with many Boyd's Bear displays. There's a Boyd's Bear for every occasion, and you're sure to find it at the Boyd's Bear store!






We spent about an hour wandering through the vast Boyd's Bear showroom looking at the bear displays. There are seasonal displays, a very cute Boyd's Bear house of cards display, and even a Boyd's Bear county fair display featuring a merry-go-round and roller coaster!

When you've seen all the bear displays, head upstairs so the kids can create their very own Boyd's Bear! First they have to get their ID card and hardhat so they can "clock in". Next, they'll get to select their bear, then pick out the stuffing.


The bear filling consists of different colors of beans representing qualities like "love", "courage", "friendship", etc. The kids can choose their bear's 'personality' by using different amounts of each. Each child gets to fill their own bear, and then add the final 'magic bean' to complete the ceremony. It's very touching to watch as your children make the bear their very own!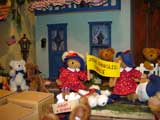 And don't forget the clothes! There are a huge variety of Boyd's Bear outfits to choose from! Your child can make everything from a NASCAR driver bear, to a bridal bear, to a biker bear, to a cheerleader bear. There's sure to be one (or more!) outfits that your children will love!
Boyd's Bear shopping tips
Give the kids a set budget before they walk into the store, and stick to it. They'll see so many things they want!

If the kids buy clothes for their bears, look for the "buy one get one free" racks. They're a great way to stretch your dollars.

Check out the puppet theater upstairs. The show is something the kids are sure to enjoy!